Sodium Petroleum Sulfonate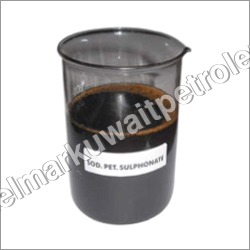 Sodium Petroleum Sulfonate

Our Sodium Petroleum Sulfonate is hugely used for formulation of metal Grease additives, Waste oil treatment, Printing ink manufacturing, working fluid/soluble cutting oil Lube additives, Ore flotation agents, Oil drilling industry Corrosion inhibitors, Leather and textile processing oils, etc. It is offered in a different of demanded packaging options and quantities at most reasonable rates according to the different needs of the arena. In addition to this, our Sodium Petroleum Sulfonate is processed keeping in mind different trends in the market using advance technology and latest machines under the supervision of professionals.
Other details:
Sodium Petroleum Sulfonate is an liquid solution which is made by dissolving o 15-15% wt/vol% sodium petroleum sulfonates & additives in Oil and after that it is 10 times diluted with water to prepare this product.


APPLICATIONS:

This product is widely used for the formulation of Leather, textile processing and metal working soluble or fluid cutting oil, Ore flotation agents, Lube additives, Waste oil treatment,Corrosion inhibitors, Grease additives, Oil drilling industry and many more.


| | | | | | | | | | | |
| --- | --- | --- | --- | --- | --- | --- | --- | --- | --- | --- |
| Sodium Petroleum Sulphonates | Sodium Sulphonates | Mineral Oil | Equivalent Weight of sodium Sulphonates | Basicity As NaOH | Inorganic | Relative Density 25/25 oC | Water Content | Kinematic Viscosity (100oC) | Flash Point | Fire Point |
| Test Method | ASTM | ASTM | ASTM | ASTM | ASTM | ASTM | ASTM | ASTM | ASTM | ASTM |
| Test Method | D - 3712 | D - 3712 | D - 3712 | D - 3712 | D - 3712 | D - 3712 | D-95 | D- 445 | D-92 | D-92 |
| Accepted Limit | Min 60% | Max 38% | 450-510 | Max 0.1 | Max 1% | 0.95-1.05 | Max 5% | 150-250 | | |
| Result | 60.50% | 35% | 495 | 0.09 | 1% | 0.9894 | 3.50% | 184c5t | Min 216oC | Min 248oC |
| | |
| --- | --- |
| Packing Options | In New Steel Drum (180Kg) |
| | | | |
| --- | --- | --- | --- |
| CHARACTERISTIC | RESULT | ACCEPTEDLIMIT | METHOD |
| Sodium Sulfonates | 60.5% | Min 60% | ASTM D-3712 |
| Mineral Oil | 35% | Max 38% | ASTM D-3712 |
| Equivalent Weight of Sodium Sulfonate | 495 | 450-510 | ASTM D-3712 |
| Basicity As NaOH | 0.09 | Max 0.1 | ASTM D-3712 |
| Inorganic Salt | 1% | Max 1% | ASTM D-3712 |
| Relative Density 25/25 °C | 0.9894 | 0.95-1.05 | ASTM D-3712 |
| Water Content | 3.5% | Max 5% | ASTM D-95 |
| Kinematic Viscosity (100°C) | 184 cSt | 150-250 | ASTM D-445 |
| Flash Point | Min 216°C | ----- | ASTM D-92 |
| Fire Point | Min 248°C | ----- | ASTM D-92 |